Ministry of Foreign Affairs of Paraguay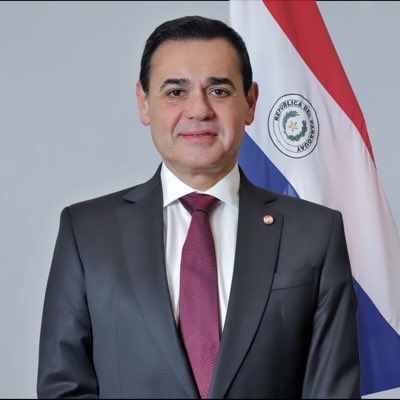 H.E. Ambasador Rubén RAMÍREZ LEZCANO

Minister of Foreign Affairs of Paraguay
Official links of the Ministry of Foreign Affairs of Paraguay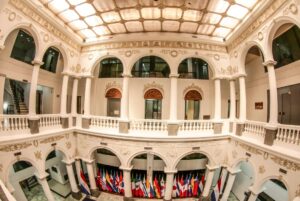 The building currently occupied by the Ministry of Foreign Affairs originally belonged to Benigno López Carrillo son of the President of the Republic (1840-1862) Carlos Antonio López and Juana Pabla Carrillo- who had acquired the property in 1860 and contracted the services of the Italian architect Alejandro Ravizza to carry out the design and construction of the building, between the years 1861 and 1865, as stated in an inscription located in a remaining mortar located in one of the corners of the central patio.
Once the Triple Alliance War (1865-1870) had concluded, Juana Pabla Carrillo appeared before the court as the heir of her son Benigno, shot in Lomas Valentinas on December 21, 1868. On July 12, 1871, when she died she, her daughters Inocencia and Rafaela López Carrillo inherited the family assets, this building being transferred in 1872 to the latter, who in turn, in 1874, sold it to Ponciano Guimaraes and reacquired it in 1876 through the purchase by her second husband, Milciades Acevedo Pedra.
In 1875 it was leased by the Catalan businessman Pedro Grau, who transformed it into a hotel with the name "Hispano-Americano". In 1893, Acevedo Pedra sold the Building to Pedro Jorba, continuing the lease by the firm Grau y Cía. until 1937, when Eduardo Yubero took charge of the administration of the hotel, renaming it the "Colonial Hotel".
Four years later, the administration of the hotel passes into the hands of the Basque immigrant Genaro Escudero, who turns it, with the same name, into the most important hotel center in Asunción. Illustrious personalities stayed there, including the President of Brazil, Getulio Vargas.
In 1970, the heirs of Pedro Jorba sold the building to the Central Hispano financial group for the headquarters of Banco Asunción S.A. Subsequently, it merged with the Santander Group. In 2003, Banco Asunción S.A. of Grupo Santander Central Hispano requests its voluntary liquidation before the authorities of the Central Bank of Paraguay and sells the property to the Paraguayan State, through a donation from the government of the Republic of China (Taiwan), to be used as the headquarters of the National Chancellery.
Through Decree No. 778 of November 7, 2003, signed by the President of the Republic of Paraguay, Mr. Nicanor Duarte Frutos and endorsed by the Minister of Foreign Affairs, Ambassador Leila Rachid, the donation from the Republic of China is accepted (Taiwan), becoming the new headquarters of the Ministry of Foreign Affairs, inaugurated on May 6, 2005.